Mass transfer
Download Mass Transfer Fundamentals and Applications Anthony PDF
Download Mass Transfer Fundamentals and Applications 1st Edition Book By Anthony L. Hines, Robert N. Maddox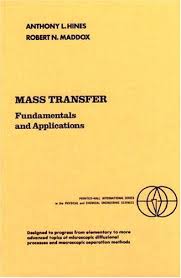 Mass Transfer Fundamentals and Applications, Mass Transfer Fundamentals and Applications are written by Anthony L. Hines and Robert N. Maddox and its first edition was published in 1985 under the supervision of Prentice-Hall. The book consists of 542 pages.
The book contains exhaustive material on the introduction principles and fundamentals of microscopic and macroscopic Mass transfer operations. This book is can be utilized for undergraduate and postgraduate students in order to learn the fundamental principle related to mass transfer. Practical examples and numerical are also included to provide a better idea related to Mass transfer operation on microscopic levels.
Mass Transfer Fundamentals and Applications PDF

Anthony

Summary:
Mass transfer Fundamental and Applications PDF covers two major sections of Chemical engineering in a single volume, the two major topics are Microscopic diffusional processes and macroscopic Separation methods.
Both topics are well explained on the basis of fundamental principles and their applications in industries as well as laboratory-level experiments. Each of the processes is supported by practical examples and numerical.
Furthermore, the book also contains the mathematical solutions for the partial differential equation of Diffusion which also includes the Method of Weighted Residuals.
Mass Transfer Fundamentals and Applications, Prominent methods for multicomponent separations like shortcut and tray-by-tray methods are also discussed in the book. Mass Transfer: Fundamentals and applications provide more than 240 different illustrations related to Mass transfer operations.
Table of Content:
1. Mass Transfer Fundamentals.
2. Diffusion Coefficients.
3. Formulation of Mass Transfer Models.
4. Partial Differential Equations of Diffusion.
5. Mass Transfer Coefficients.
6. Convective Mass Transfer.
7. Phase Equilibrium.
8. Adsorption
9. Binary Distillation
10. Multicomponent Distillation.
11. Extraction.
12. Mass Transfer in Continuous Differential Contactors.
13. Design of Staged Columns.
14. Adsorption.
appendix: ViscosityofGasesandLiquids.
appendix: equilibrium data.
appendix:equilibrium-Values.
appendix: enthalpy data.
Appendix E: Unit Conversion Factors and Constants
Previous Article:
This Article is on Mass Transfer Fundamentals and Applications Anthony Pdf, and the previous article was on Chemical Engineer Job Description Salary and Career, To download more books keep visiting chemical pdf.
Download Mass Transfer Fundamentals and Applications PDF Anthony:
Get Mass Transfer Fundamentals and Applications PDF from our site also check out more chemical engineering books as well.