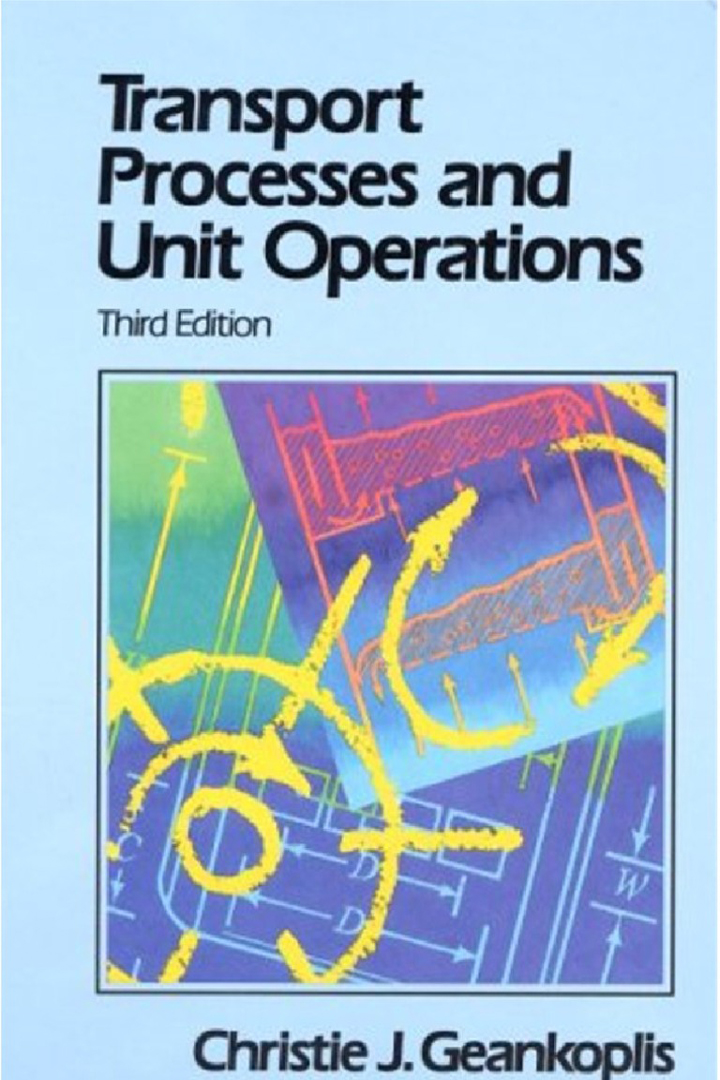 Author: Christie J. Geankoplis
Edition: 3rd
Introduction:
Transport Processes and Separation Process Principles Geankoplis 3rd Edition. Transport process and unit operation are written by Christie J. Geankoplis, this book offers exhaustive data on two major topics of Chemical engineering.
Transport operations and Unit operations, the content contains the illustrative examples of practical applications in Chemical, petroleum and pharmaceutical industries. The book consists of 921 pages and designed to entering one year course for the undergraduate Chemical engineering Course.
The first semester deals with the principles and techniques of Transport operations also known as transport phenomena, the second semester is related to the Unit operations topics and operations.

Summary:
This book is supposed to cover the whole year course for undergraduate Chemical engineering students. The contents are distributed into two halves first half covers the fundamental principles of transport operations including fluid mechanics also known as momentum, heat and mass transfer.
Each principle is explained on the basis of practical examples, numerical and industrial applications. The second half is related to the unit operations and its applications and fundamental principles in chemical engineering fields.
The extra chapters in the book deal with Adsorption, membrane separations and detailed coverage of Fluid mechanics and its principles and applications on the field.
Table of Content:
Transport Process: Momentum, Heat, and Mass.
Introduction to Engineering Principles and Units.
Principles of Momentum Transfer and Overall Balances.
Principles of Momentum transfer and application.
Principles of Steady-state Heat Transfer.
Principles of Unsteady-State Heat Transfer.
Principle of Mass Transfer.
Principle of Unsteady State Convective Mass Transfer.
Unit Operations.
Evaporation.
Drying of Process Materials.
Stage and Continuous Gas-Liquid Separations Process.
Vapour Liquid Separation Process.
Liquid-Liquid and Fluid-Solid Separation Process.
Membrane Separation Process.
Mechanical Physical Separation Process.
Appendix
Appendix A.1
Appendix A.2
Appendix A.3
Appendix A.4
Appendix A.5
Index
For online readers, Book can be accessed via the following links :
Previous Article:
This Article Is about Transport Processes and Separation Process Principles Geankoplis 3rd Edition pdf, and Check out the Process Heat Transfer also: Process Heat Transfer Kern Pdf Free Download
The download you're From Transport Processes and Separation Process Principles Geankoplis 3rd Edition  Epub here
if you want to download Transport Processes and Separation Process Principles Geankoplis 3rd Edition, click here
Download your transport Processes and Separation Process Principles Geankoplis 3rd Edition  Ebook
Also Download :
Transport Processes and Separation Process Principles Geankoplis 4th Edition. The solution manual is also available and can be accessed from the following link transport processes and unit operations geankoplis solution manual pdf