[eBook] Mass Transfer Principle and Operations AP Sinha PDF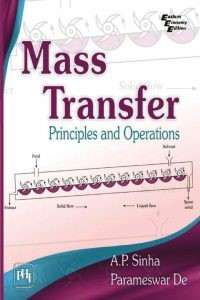 Mass Transfer Principle and Operations AP Sinha, Mass Transfer: Principle and operations were written by A.P. Sinha and published on 5/09/2012 under the supervision of PHL learning. Late A.P. Sinha (Ph.D.) served as Dean of the Faculty of Engineering, at Burdwan University, West Bengal. During his 35 years graceful career, he published several research papers for national and international journals.
He spends about 27 years in the teaching field and was honored with a lifetime membership at the Indian Institute of Chemical Engineers. This book accumulates all fundamental theories and processes related to mass transfer in Chemical engineering. Multiple Choice Questions and numerals are included at the end of each chapter to get a better understanding of concepts.
Mass Transfer Principle and Operations Summary :
This book introduces the Mass transfer fundamental Principles and their various applications in real-time industrial applications. It contains all the techniques for Chemical extraction and separation processes.
The content is distributed and begins with Molecular diffusion in gas, liquid, and solids, each process is explained on the bases of multiple other theories which makes it very simple and easy. Qualitative and quantitative analyses make everything more comprehensible. Additional theories are included related to the corresponding process to simplify the content for the students. The book also contains data related to the Chemical equipment used in different processes.
Table of Content :
Preface
INTRODUCTION
2. DIFFUSION
3. MASS TRANSFER COEFFICIENTS AND ANALOGY EQUATIONS
4. INTER-PHASE MASS TRANSFER
5. METHODS OF OPERATION AND COMPUTATION
6. EQUIPMENT FOR GAS-LIQUID CONTACT
7. GAS ABSORPTION
8. DISTILLATION
9. HUMIDIFICATION OPERATIONS
10. LIQUID-LIQUID EXTRACTION
11. LEACHING
12. DRYING
13. CRYSTALLIZATION
14. ADSORPTION AND CHROMATOGRAPHY
15. MEMBRANE SEPARATION
Index
This book can be downloaded and accessed via the following links mass transfer principles and operations Sinha pdf mass transfer: principles and operations by a. p. Sinha, Parameswaran de pdf, Keep visiting Chemical PDF.